What You Can Expect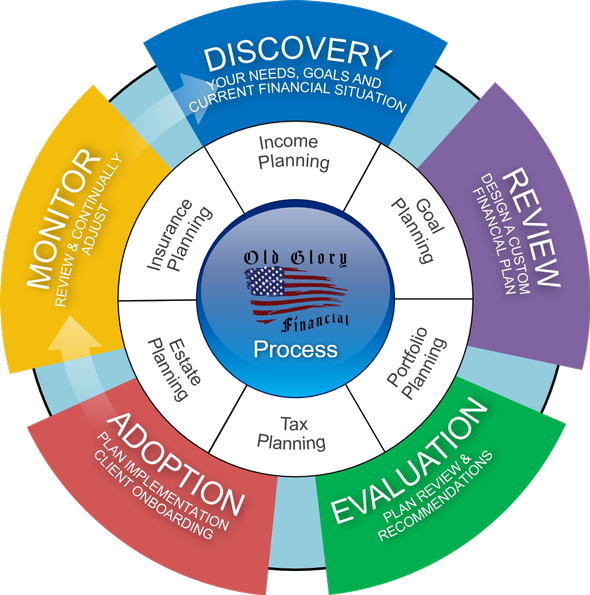 Step1: Discover Your Needs, Goals, & Current Financial Situation

When you schedule a free, no-obligation consultation with Old Glory Financial, you'll be invited in to meet with us in a relaxed setting intended for you to get to know us and for us to get to know you. In this meeting, we will identify your needs, goals, financial situation, and risk profile to determine how we can best serve you.
Step 2: Design a Custom Financial Plan
Based on our initial consultation or "discovery meeting," as we like to call it, you'll be invited back in to hear recommendations we have regarding your investment strategy and how it ties in with your specific life goals. Along with the Financial Plan, you will be given a Statement of Investment Selection, clearing outlining how your investments will be invested, and the costs to manage them. We will also answer any other questions that you may have.
Step 3: Implement Recommendations

Upon receiving your approval of the financial plan that will have been designed specifically for you, we'll move forward with implementing it by adjusting your portfolio, taxes, estate, and insurance accordingly.
Step 4: Review Plan Post Implementation

After your plan has been implemented, we'll set a time for you to review it and ensure it aligns with your life goals and make adjustments if necessary. We will also make sure that you can monitor your accounts by assisting in getting logged into your accounts in this Digital World.
Step 5: Monitor and Continually Adjust

We'll monitor your investments for you and will periodically meet with you to review your investment performance and address any tax, estate planning, or life & survivorship needs you may have.